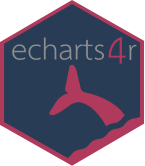 To & From JSON
Source:
R/helpers.R
echartsNJSON.Rd
Get JSON options from an echarts4r object and build one from JSON.
Arguments
e

An echarts4r object as returned by e_charts or a proxy as returned by echarts4rProxy.

json

Whether to return the JSON, otherwise returns a list.

...

Additional options to pass to toJSON.

txt

JSON character string, url, or file.
Value
e_inspect Returns a list if json is FALSE and a JSON string otherwise. echarts_from_json returns an object of class echarts4r.
Details
txt should contain the full list of options required to build a chart. This is subsequently passed to the setOption ECharts (JavaScript) function.
Examples
p

 

<-

 

cars

 

|>


  e_charts

(

dist

)

 

|>


  e_scatter

(

speed

, symbol_size 

=

 

10

)







p

 

# plot








# extract the JSON




json

 

<-

 

p

 

|>


  

e_inspect

(


    json 

=

 

TRUE

,
    pretty 

=

 

TRUE


  

)







# print json




json




#>

 {


#>

   "yAxis": [


#>

     {


#>

       "show": true


#>

     }


#>

   ],


#>

   "xAxis": [


#>

     {


#>

       "type": "value"


#>

     }


#>

   ],


#>

   "legend": {


#>

     "data": [


#>

       "speed"


#>

     ]


#>

   },


#>

   "series": [


#>

     {


#>

       "data": [


#>

         {


#>

           "value": [2, 4]


#>

         },


#>

         {


#>

           "value": [4, 7]


#>

         },


#>

         {


#>

           "value": [10, 4]


#>

         },


#>

         {


#>

           "value": [10, 9]


#>

         },


#>

         {


#>

           "value": [14, 12]


#>

         },


#>

         {


#>

           "value": [16, 8]


#>

         },


#>

         {


#>

           "value": [17, 11]


#>

         },


#>

         {


#>

           "value": [18, 10]


#>

         },


#>

         {


#>

           "value": [20, 12]


#>

         },


#>

         {


#>

           "value": [20, 15]


#>

         },


#>

         {


#>

           "value": [22, 7]


#>

         },


#>

         {


#>

           "value": [24, 12]


#>

         },


#>

         {


#>

           "value": [26, 10]


#>

         },


#>

         {


#>

           "value": [26, 13]


#>

         },


#>

         {


#>

           "value": [26, 14]


#>

         },


#>

         {


#>

           "value": [26, 15]


#>

         },


#>

         {


#>

           "value": [28, 11]


#>

         },


#>

         {


#>

           "value": [28, 12]


#>

         },


#>

         {


#>

           "value": [32, 16]


#>

         },


#>

         {


#>

           "value": [32, 17]


#>

         },


#>

         {


#>

           "value": [32, 20]


#>

         },


#>

         {


#>

           "value": [34, 10]


#>

         },


#>

         {


#>

           "value": [34, 13]


#>

         },


#>

         {


#>

           "value": [34, 13]


#>

         },


#>

         {


#>

           "value": [36, 14]


#>

         },


#>

         {


#>

           "value": [36, 19]


#>

         },


#>

         {


#>

           "value": [40, 16]


#>

         },


#>

         {


#>

           "value": [40, 17]


#>

         },


#>

         {


#>

           "value": [42, 18]


#>

         },


#>

         {


#>

           "value": [46, 13]


#>

         },


#>

         {


#>

           "value": [46, 19]


#>

         },


#>

         {


#>

           "value": [48, 20]


#>

         },


#>

         {


#>

           "value": [50, 17]


#>

         },


#>

         {


#>

           "value": [52, 20]


#>

         },


#>

         {


#>

           "value": [54, 15]


#>

         },


#>

         {


#>

           "value": [54, 23]


#>

         },


#>

         {


#>

           "value": [56, 18]


#>

         },


#>

         {


#>

           "value": [56, 20]


#>

         },


#>

         {


#>

           "value": [60, 14]


#>

         },


#>

         {


#>

           "value": [64, 20]


#>

         },


#>

         {


#>

           "value": [66, 22]


#>

         },


#>

         {


#>

           "value": [68, 19]


#>

         },


#>

         {


#>

           "value": [70, 24]


#>

         },


#>

         {


#>

           "value": [76, 18]


#>

         },


#>

         {


#>

           "value": [80, 14]


#>

         },


#>

         {


#>

           "value": [84, 18]


#>

         },


#>

         {


#>

           "value": [85, 25]


#>

         },


#>

         {


#>

           "value": [92, 24]


#>

         },


#>

         {


#>

           "value": [93, 24]


#>

         },


#>

         {


#>

           "value": [120, 24]


#>

         }


#>

       ],


#>

       "name": "speed",


#>

       "type": "scatter",


#>

       "symbol": null,


#>

       "coordinateSystem": "cartesian2d",


#>

       "yAxisIndex": 0,


#>

       "xAxisIndex": 0,


#>

       "symbolSize": 10


#>

     }


#>

   ]


#>

 } 





# rebuild plot




echarts_from_json

(

json

)

 

|>


  e_theme

(

"dark"

)

 

# modify