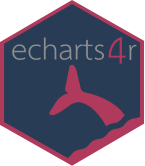 Proxies
Source:
vignettes/proxies.Rmd
proxies.Rmd
Introduction
This essentially covers a consequential new feature of echarts4r that allows using any function that adds a serie to a chart (e.g.: e_bar) as a proxy. This, combined with a new e_remove_serie lets one seamlessly add and remove series from a chart without having to redraw it in its entirety, making for much slicker Shiny charts.
Examples
Below is a basic Shiny application that uses echarts4r. We'll afterwards add to the app the ability to add and remove a serie.
We add a button to enable adding a serie on the chart.
Create a proxy with echarts4rProxy.
We use e_line to add a scatter plot.
Actually update the chart with e_execute.
First, this means we can now use echarts4rProxy just like our nearly chart initialisation function e_charts. Then we used e_line but you are free to use any other functions that adds a serie to a chart. The e_execute function is used to actually send the the updates to the front end and have the chart updated, this allows batching updates, e.g.: add a scatter plot and a line at once.

We can then add another button to remove the serie with e_remove_serie which does not require the use of e_execute.

We can now demonstrate how to add multiple series, and the useful of e_execute.