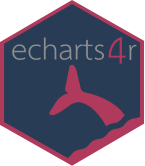 Mark
Source:
R/mark.R
e_mark_p.Rd
Mark points, lines, and areas with a proxy ([echarts4rProxy()]).
Arguments
e

An echarts4r object as returned by e_charts or a proxy as returned by echarts4rProxy.

type

Type of mark: 'point','line' or 'area', defaults to 'point'.

serie_index

Single index of serie to mark on, defaults to 1. Proxy doesn't know series' names, so it only uses index.

data

Location of point, line or area, defaults to NULL.

...

Any other option to pass, check See Also section.
Examples
library

(

shiny

)


library

(

dplyr

)







ui

 

<-

 fluidPage

(


  fluidRow

(


    column

(

3

, actionButton

(

"pxy"

, 

"Marks"

)

)

,
    column

(


      

3

,
      checkboxInput

(

"tln"

, 

"Timeline"

, value 

=

 

FALSE

)


    

)


  

)

,
  echarts4rOutput

(

"plot"

)




)







server

 

<-

 

function

(

input

, 

output

)

 

{


  data

(

EuStockMarkets

)





  

bb

 

<-

 as.data.frame

(

EuStockMarkets

)

 

|>


    slice_head

(

n 

=

 

150

)

 

|>


    mutate

(

day 

=

 

1

:

n

(

)

)





  

output

$

plot

 

<-

 renderEcharts4r

(

{


    

react

(

)


  

}

)





  observeEvent

(

input

$

pxy

, 

{


    echarts4rProxy

(

"plot"

, data 

=

 

NULL

)

 

|>


      

e_mark_p

(


        type 

=

 

"line"

,
        serie_index 

=

 

1

,
        data 

=

 list

(

type 

=

 

"average"

)

,
        lineStyle 

=

 list

(

type 

=

 

"dashed"

, color 

=

 

"cyan"

)


      

)

 

|>


      

e_mark_p

(


        serie_index 

=

 

2

,
        data 

=

 list

(


          xAxis 

=

 

bb

$

day

[

60

]

,
          yAxis 

=

 

bb

$

SMI

[

60

]

,
          value 

=

 

"pnt"


        

)


      

)

 

|>


      

e_mark_p

(


        type 

=

 

"line"

,
        serie_index 

=

 

2

,
        data 

=

 list

(


          list

(

xAxis 

=

 

bb

$

day

[

10

]

, yAxis 

=

 

bb

$

SMI

[

10

]

)

,
          list

(

xAxis 

=

 

bb

$

day

[

37

]

, yAxis 

=

 

bb

$

SMI

[

37

]

)


        

)

,
        lineStyle 

=

 list

(

type 

=

 

"solid"

, color 

=

 

"yellow"

)


      

)

 

|>


      

e_mark_p

(


        type 

=

 

"area"

,
        serie_index 

=

 

1

,
        data 

=

 list

(


          list

(

xAxis 

=

 

bb

$

day

[

95

]

)

,
          list

(

xAxis 

=

 

bb

$

day

[

105

]

)


        

)

,
        itemStyle 

=

 list

(

color 

=

 

"lightblue"

)

,
        label 

=

 list

(

formatter 

=

 

"X-area"

, position 

=

 

"middle"

)


      

)

 

|>


      e_merge

(

)


  

}

)





  

react

 

<-

 eventReactive

(

input

$

tln

, 

{


    

tmp

 

<-

 

bb


    

if

 

(

input

$

tln

)

 

tmp

 

<-

 

tmp

 

|>

 group_by

(

day

 

<

 

75

)





    

tmp

 

|>


      e_charts

(


        

day

,
        backgroundColor 

=

 

"#181818"

,
        legend 

=

 list

(

textStyle 

=

 list

(

color 

=

 

"#aaa"

)

)

,
        timeline 

=

 

input

$

tln


      

)

 

|>


      e_y_axis

(

scale 

=

 

TRUE

, axisLabel 

=

 list

(

color 

=

 

"#aaa"

)

)

 

|>


      e_line

(

CAC

, symbol 

=

 

"none"

, color 

=

 

"#ff33b8"

)

 

|>


      e_line

(

SMI

, symbol 

=

 

"none"

, color 

=

 

"green"

)


  

}

)




}




if

 

(

interactive

(

)

)

 

{


  shinyApp

(

ui

, 

server

)




}